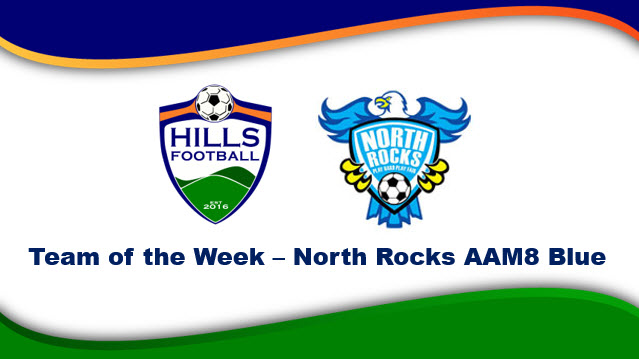 Our team o0f the week for round 5 sees us visit North Rocks All Age Mens 8 Blue:
Undefeated after 5 rounds, what do you put the early success down to?
Having a squad of 18 has helped us so far as we haven't had to play short any week. We're playing well as a team and have actually surprised ourselves with the start we've had. Let's hope we can continue.
What World Class Club do you think your playing style most closely resembles, and why?
Not sure if this is a trick question – I don't think it's fair to bring any world class club down to anywhere near our level but a few of the guys like to think we pass the ball around and keep possession like Barcelona.
Would you say your pitch-side manner is more similar to Mauricio Pochettino (calm and collected) or Antonio Conte (animated to say the least)?
Some of our games better represent a circus than a soccer match so definitely Pochettino (calm and collected) or else I wouldn't bother turning up!
Which two clubs do you predict playing in the AAM8 Grand Final for 2018?
Definitely has to be a North Rocks Derby!!!
You're down 2-1 in the Grand Final with only minutes on the clock and you're awarded a penalty. Who takes it?
Our long time penalty taker Matthew Psaltis retired after we won the title last season. This role has been handed to Dom Underwood now and he's 1/1 for the season so definitely would hand the ball to him to send us into extra time.
What makes North Rocks a special club to be a part of?
A lot of things make North Rocks a special club to be a part of. A lot of people over the years have put in a lot of time to build the club to where it is today. None more so than Vi Nutt. She's still down on the sidelines every weekend supporting us and many other North Rocks teams and she really has been the face of the club for the whole time I've been involved (25 years). As I'm sure is the case with most clubs in the Hills, the committee do a great job from the grass roots up ensuring that above all, players enjoy waking up on a Saturday or Sunday morning and playing soccer with their friends.
Who do you see as the clubs biggest rivals and why?
Some may say that rivalries like we knew them have been thrown out the window since North Rocks made the great (and pretty easy) decision to move across into the Hills Comp. I guess for our team over the years growing up we always had a strong and fair rivalry with Winston Hills and Castle Hill and that's continued over the last couple of seasons. Last year we also had a great rivalry with Kellyville Utd.