Hall of Fame
2017 – Jim Moreland
Jimmy is a legend of the game. He is a life member of the Baulkham Hills Football Club and the first inductee to Hills Footballs Hall of Fame in 2017.
Jim currently holds the record as the longest serving player for Baulkham Hills FC having played continuously for 40 years. Since his playing retirement in 2009, Jimmy has gone on to volunteer an enormous amount of time and energy to the Club.
Jimmy played in Baulkham Hills Premier League team well into his 50s! Jimmy has been club captain, player, coach, manager, age coordinator, referee and mentor to multiple generations at Baulkham Hills.
Jimmy is also the patron of the club's perpetual coaching trophy: The Jimmy Moreland trophy for coach of the Year. He has received the Senior Sportsperson of the Year award more than any other club man in 1972, 1974 and 2009.
He has been nominated for this award numerous times since 2009 but has withdrawn his name so that others may be recognised. In recent years, Jimmy has been the instigator of the innovative and hugely successful Mini Roos Referees Program for junior referees at Baulkham Hills. This program has since been rolled out across the entire Association. Jim now trains and mentors ALL Mini Roos referees within The Hills District including all SAP & GSAP Mini Refs. Jim now devoted his time into his passion which is refereeing. He even laces up the boots and officiates 4 matches every weekend. Not bad for a man in his 7th decade! In 2018, Jimmy was instrumental in helping Hills Football launch our first ever, and highly successful Walking Football program for over 55s.
Jim Moreland was honoured by Hills Football by being inducted the Hall of Fame in 2017 for his long serving and dedication to the game.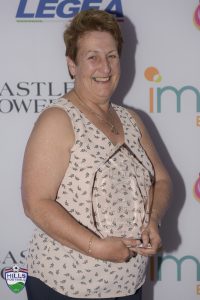 2019 – Sue Torville
On the 4th October 2019, Sue Torville was inducted into Hills Footballs Hall of Fame.
Sue (along with many others) is a major reason why Hills Football exists. Her dedication and passion for football in our region cannot be questioned.
Sue joined Kenthurst & Districts football club in 2001 when her son Alexander joined. In no time, Sue joined the committee and held various roles including; Registrar, Canteen Manager, Parks Delegate, Summer Competitions Coordinator and eventually President.
In 2015, Sue was on the inaugural board in the new defunct Sydney Hills Football Association, a precursor to Hills Football. Event though her beloved Kenthurst did not enter the competition that year.
Sue then was an innagural board member of Hills Football Incorporated elected by her peers. Sue held this role for two years before resigning and moving back to Kenthurst & Districts FC.

The Hills Footballing community will always be grateful for Sue and her dedication to make football in the hills a reality.