IMB Superstar of the Week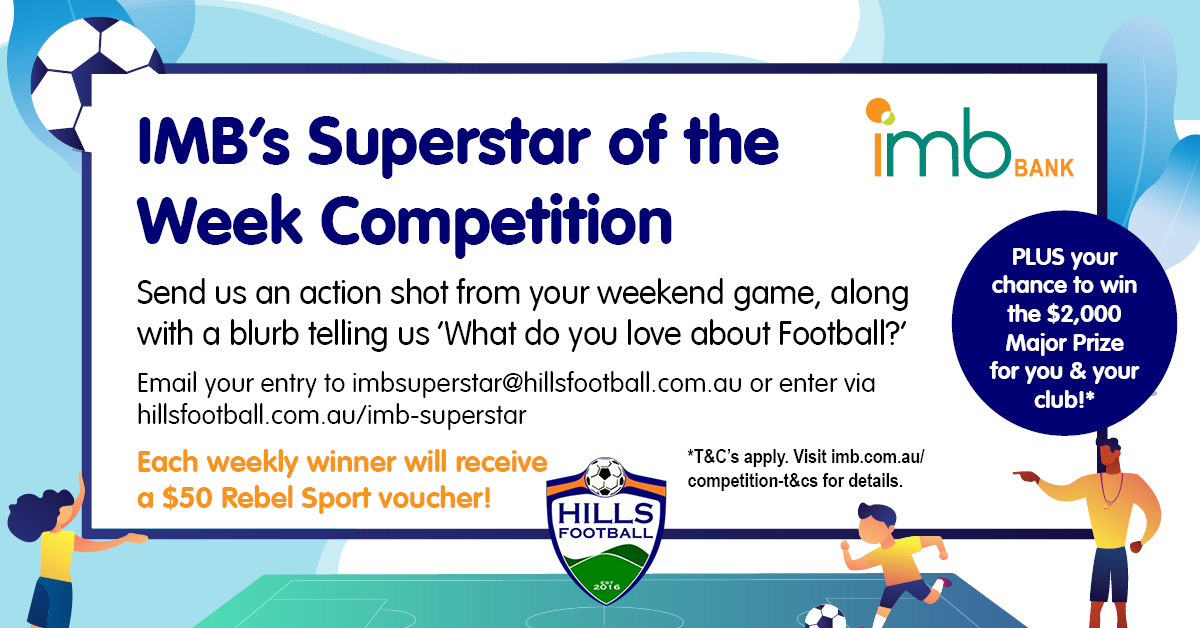 Welcome to the IMB Bank Superstar of the Week!
Each week, IMB Bank will reward the Superstar of the week a $50 Rebel Voucher.
At the end of the year, the overall winner (chosen by IMB Bank) will receive a Major Prize of $1000 deposited into their own IMB Bank account.
Also the Major Winners' Club will receive from IMB Bank an additional $1000 donation.
For your chance to win, simply enter by writing in 25 words or less why you are this weeks Superstar, make sure you include a picture! To enter, you must be under the age of 17 years and be registered to a Hills Football Club.
This promotion is open to all Hills Football members aged 17 and under. Promotion runs from 10:00am on 21/8/2020 and closes 10:00pm 16/10/2020. Entries for each weekly prize close on the Wednesday following the previous weekends games. The weekly winner will be selected on Thursday of each week of the Football Season based on photo and blurb content. Winner will be notified in writing via email and published on the IMB Bank website. Winner must open a new IMB Zoo or Kick Start account. Account eligibility requirement apply to all IMB accounts. Zoo account opening requirements will vary depending on your relationship with the child. A Kick Start Account is either an Everyday Unlimited Kick Start Account or a Reward Saver Kick Start Account. These accounts are available to individuals aged 13-17 and students, trainees and apprentices aged 18-30. Studying or training with an organisation recognised by IMB in its absolute discretion. Once a Kick Start Account holder no longer meets the eligibility criteria or fails to provide proof of eligible status, the Everyday Unlimited Kick Start Account or Reward Saver Kick Start Account will convert to the standard terms and conditions applicable to the Everyday Unlimited Account or Reward Saver Account respectively. Please refer to the PDS for full details. $50 voucher will be distributed to the weekly winner within 30days of the winner opening their new IMB account. 1. All weekly winners of the Superstar of the Week competition are automatically entered into the competition for the major prize. Major Prize consists of a $2000 prize pool. The Superstar of the Week Major winner will win $1000 deposited in to an IMB account. The major winners' club will receive $1000 deposited in their nominated account. The winner will be selected at 2:00pm on 22/10/20 at IMB Bank Head Office, 253-259 Crown Street Wollongong NSW. The individual winner and their club will be notified in writing via email and published on the IMB Bank website. Full terms & conditions and eligibility requirements for the competition are available here. This advice is general advice only and does not take into account your objectives, financial situation or needs. Consider the PDS available from IMB before making a decision about these products. IMB Ltd trading as IMB Bank ABN 92 087 651 974. AFSL/Australian Credit Licence 237 391.