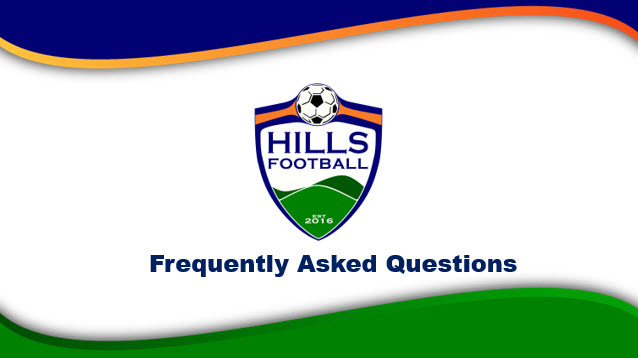 We have received alot of questions regarding season 2018. Here are some of our FAQs:
When does the season start?
Our season kicks off on the 6th April 2018
When are the Grand Finals Scheduled?
Grand Finals are scheduled for the 24th, 25th, 26th August
Do we play over the school holidays?
Yes, due to council providing access to the fields for 22 weekend, we have no choice but to play through all school holiday periods in order to get the full round of competition plus finals matches in.
When is the draw being released?
Our team is hard at work building the draw. However, we have set backs regarding to the shared usage of fields with other sports, the completion of projects such as Bernie Mullane and Caddies Creek Reserves. these types of issues hold back our draw.  We endevour to have the draw released as soon as we possibly can.
Why is my team playing on Friday nights or Sundays?
Due to the limited amount of field space in the Hills District, there is no more room to play matches on the traditional Saturday slots. Senior teams will be rotated throughout Friday nights and Sundays in order to get all of the required matches played. Hills Football is also preparing for the population growth predicted in the area over the next 5 to 10 years. We do not want to be in a position where we have to turn away participants to our sport, therefore we have to come up with solutions to use the available fields at all times. Over the next few seasons, you will notice more Friday and Sunday matches being played. Hills Football is working very closely with The Hills Shire Council and Parramatta Councils on this issue and new fields will be online in the not too distant future.
Why do i not have a true home and away season?
Similar to the above question, due to the amount of field space and availability in the Hills District or your clubs capacity, many games will be played at neutral venues in season 2018. In order to play all of the required matches, we have to utlise and available field space we can.
What date do i have to be registered by in order to play in round 1?
All registrations must be approved by the Association no later than March 29th at 10 am in order to play round one. If you are not registered before this date you are ineligible to play. If a player who is not registered plays in round 1, your team will be automatically forfeited.
Before we start the season, have you considered VOLUNTEERING at your local club or becoming a referee?
Volunteers and referees are the lifeblood of community football, without them, our sport would not be possible. Its easy to become involved. Simply speak with your local club and find out how you can lend a hand.