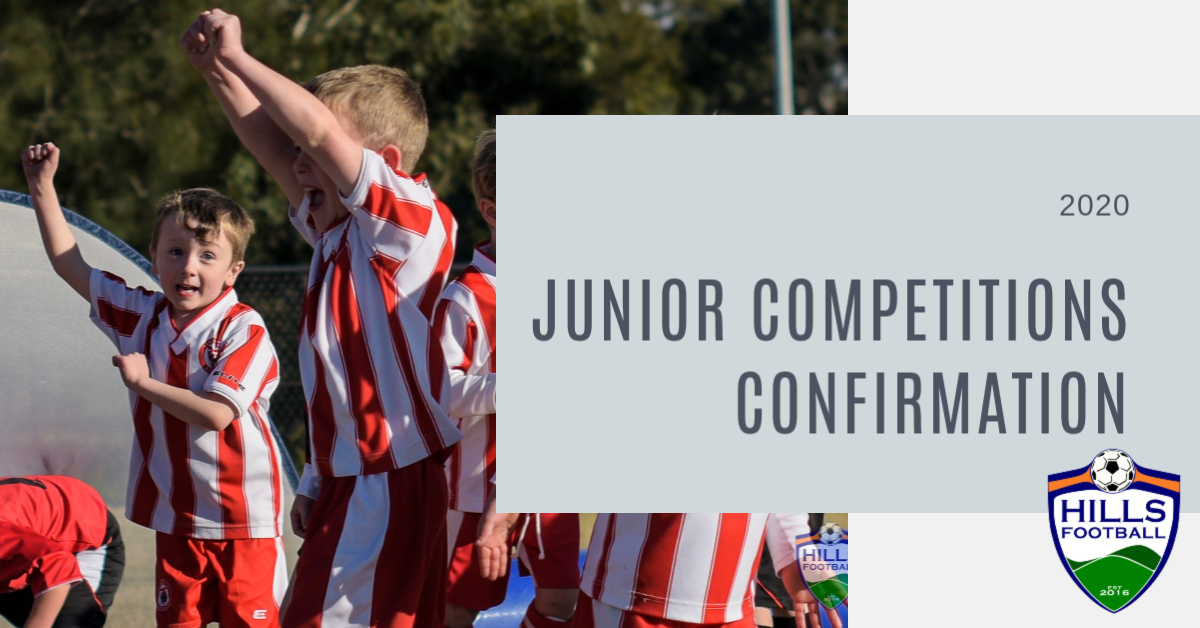 Hills Football is excited to announce confirmation of the 2020 Winter Football Season for 18s and Under!
Firstly, the board and management of Hills Football offer our sincerest gratitude to the Hills Football Community for your support and patience during this unprecedented period. Like most of you, we have our frustrations in not knowing all of the details. We as an organisation and a sport receive the same notifications from the NSW Government as you do. We aren't privy to any of their plans or announcements.
That said, we finally have confirmation that as of the 1st July 2020, players 18 and under are eligible to return back to full competitions!
Seniors, please CLICK HERE for information regarding your seasons.
The below is confirmation of our 2020 Winter Season for competitions of players 18 years old and below.
Aim:
To play as much football for juniors as possible, within reason and in a safe manner as prescribed by the NSW Government, NSW Health and FNSW.
Who:
All registered players in 18 and under competitions.
The Season:
In consultation with our clubs, we have developed the following season.
We will play a 14 round competition with a two week finals series for competition age groups. The first two weekends will be "Double Headers". We will play the finals series on the very limited available rectangular fields that aren't used for summer sports.
This competition is based on the assumption that council will grant our sport access to fields until the 20th September 2020. Should our sport not be granted an extension, we will play an 11 round competition that finished on the 30th August 2020. If this is the case, we will NOT play the two week finals series.
See below table.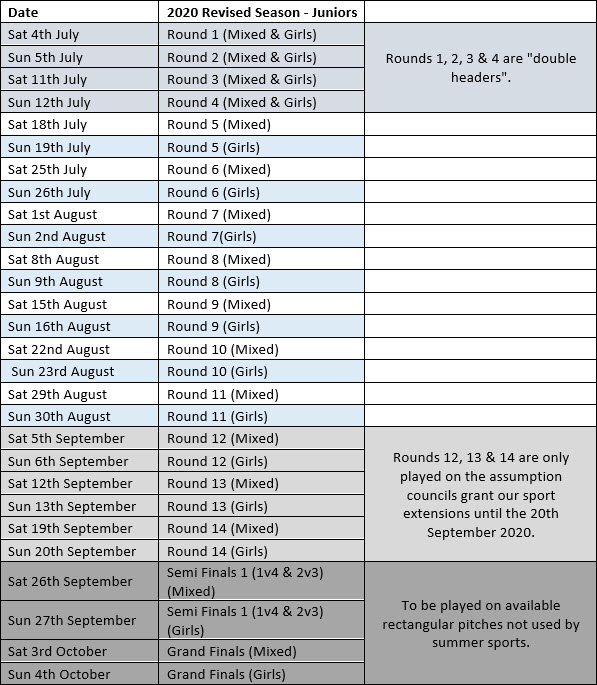 Fees:
We completely understand that all players have been dealt a blow in terms of what we had originally planned to play this season. As such, players will not have to pay "Full Fees". Hills Football will only require a prorated rate based on the amount of games played in the scenarios listed above.
Players will be provided this reduction in fees as a credit towards their 2021 Winter Football season. This credit will be as a voucher that can be used on the playfootball.com.au portal.
Opt Out Period:
We completely understand that our new competition dates will not suit everyone, we also understand many have their reservations of returning to football given the current climate.
Therefore, we are offing all players (aged 18 and under) the opportunity to deregister and receive a refund of the Hills Football portion of your registration fees. At this present time, both Football NSW and Football Federation Australia have not confirmed if they will also provide full refunds to deregistered players. Should FNSW & FFA provide refunds, these will then be also passed onto you as a player.
The opt out period is from the 6th June until the 12th June 2020. Anyone who does not Opt out during this period will be considered playing and not eligible to claim any refunds post this period.
Opt Out Process:
In order to be eligible for your refund of Hills Footballs portion of the fees, player must:
Players must visit www.playfootball.com.au and request to De Register.
Players must inform their club of their decision to de register.
You will then receive communication from your club to organise your deregistration
**NOTE – Your club committee members are volunteers and will be processing a high amount of requests. We ask all participants to be patient during this period**
Hills Football will assist all clubs who require assistance with this process.
Players who do NOT deregister in playfootball prior to the 12th June 2020 will NOT be eligible for a refund.
Players who have claimed insurance or intend to claim insurance due to injuries sustained between the 1st Jan 2020and the 12th June 2020 will NOT be eligible for a refund.
Active Kids Voucher:
Players who Opt out and deregister are NOT eligible to redeem their active kids voucher.
I havnt registered yet, can i?
Of course! Registrations are still open. However we urge you to double check with your club prior to see if they still have room for you or not.
Terms & Conditions:
Only players who have been made ACTIVE, and paid their fees by their club in play football will be eligible to de register and receive a refund.
The player (or parent/guardian) acknowledges that once the refund is received, they have no further claim on either Hills Football or its Member's clubs and that they are not eligible to claim against any insurance policy provided by Hills Football or Football NSW.
Fees refunded will only be for registrations fees. You will not be eligible for any other items such as, but not limited to: equipment, additional coaching, courses and programs.
Players, parents & guardians acknowledge that by de-registering, they forfeit any voucher redeemed as part of the registration Active Kids Voucher (if claimed as part of this registration) subject to the terms and conditions of the Active Kids Voucher program.
To De-register and claim the refund, the player (or parent/guardian) must complete and submit this required online form by 11:59pm on Friday June 12, 2020. No De-registrations or refund claims will be accepted after 11:59pm on June 12, 2020.
Players who are De-registered under this provision will NOT be eligible to re-register for the 2020 Winter competition.
Members who have claimed or intend to claim insurance due to an injury caused by football related activities between the dates of 01/01/2020 & 11/05/2020 are NOT eligible to De-register.