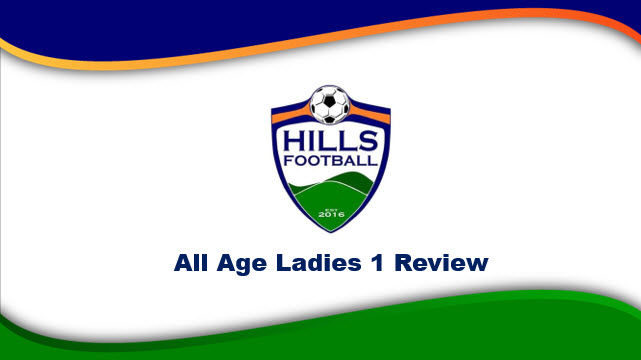 AAL Div 1 – Round 4 Review
Castle Hill Rockets were the first to drop out of the tied affair at the top of the table, with a draw against North Rocks on the weekend.  They're in danger of slipping further down the ladder with a game against Castle Hill United Blue in round 5.  United Blue now sit two points behind the Rockets having defeated Norwest 7-3 on the weekend.
Kellyville United put eight past local rivals Kellyville Kolts to remain second, and now only one goal difference off league leaders Castle Hill United Red.  United Red will be looking to extend that gap, playing Norwest in round 5 after their recent bye.
Team of the Week – Winston Hills All Age Ladies 1
This week, we caught up with Winston Hills AAL1 coach Trent Kiner about the Bears chances this year!
Q) Undefeated after 4 rounds, what do you put the early success down to?
A) We have a strong team and a great group of girls who really enjoy playing together, whilst we didn't have a trial game prior to the season start the girls have adapted quickly and are playing some good football.
Q)What World Class Club do you think your playing style most closely resembles, and why?
A) Sydney FC, we like to play an attacking style of football where we have our backs making attacking runs when and where the opportunity allows and controlling much of the play through our midfield.  We like to play a quick passing game which is constantly improving as the newer girls adapt to the style.
Q) Would you say your pitch-side manner is more similar to Mauricio Pochettino (calm and collected) or Antonio Conte (animated to say the least)?
A) Definitely Antonio Conte, I can't help myself but to become heavily involved in the game, I like to be active and can at times provide too much direction for the girls given the experience and skill set, it is something I am trying to modify to become more calm on the sideline.
Q) Which two clubs do you predict playing in the AAL1 Grand Final for 2018?
A) Whilst it is very early in the season I would suggest it will be two of three teams, Castle Hill United have been very strong over recent years and with Colin McGowan in the coaching position this year they are likely to become even stronger!  The other team is last years, Division 2 winners, Kellyville United who are sitting equal first with CHU and us and lastly, I think if we continue to develop as a squad, Winston Hills are a strong chance of figuring in the finals series and I would expect we have a strong chance of playing in the Grand Final.
Q) You're down 2-1 in the Grand Final with only minutes on the clock and you're awarded a penalty.  Who takes it?
A)We are lucky enough to have a few cool heads in the team who can be very effective on the penalty mark, however, I think Channel Macarthur would get the chance to equalise for the team.
Q)What makes Winston Hills a special club to be a part of?
A) They are very much a family club with real family values, more recently they have become very focussed on developing all facets of football with a real focus on Women's Football.  Rod Carra, Club President, has gone out of his way to make the girls feel both welcome and valued as a team and I know the girls very much appreciate the work that he and his committee have done and are doing each week to make the club run so smoothly.  The club is determined to develop girls to become stronger players and increase their enjoyment of the game, this is a good thing that will not only benefit the club but the whole association for years to come.
Q) Who do you see as the clubs biggest rivals and why?
A) I think Castle Hill United, we played them in the Northwest Women's League last year and also in the Hills Cup and whilst we are a much stronger team this year they will be a hard team to beat.  I am also good mates with Colin McGowan so there will also be plenty of banter on and off the field.  This will be a great game to watch and be a part of!